Istanbul Paragliding and Parasailing, or what is known as Istanbul skydiving, is one of the coolest things that make you feel fun and adventurous at the same time.
Parachute riding is a must-do when visiting Turkey, as there are many wonderful places to do by riding a parachute and enjoying the wonderful views.
If you are planning to visit Turkey and ride a parachute in Istanbul, follow this article to learn about the most important places for Istanbul skydiving.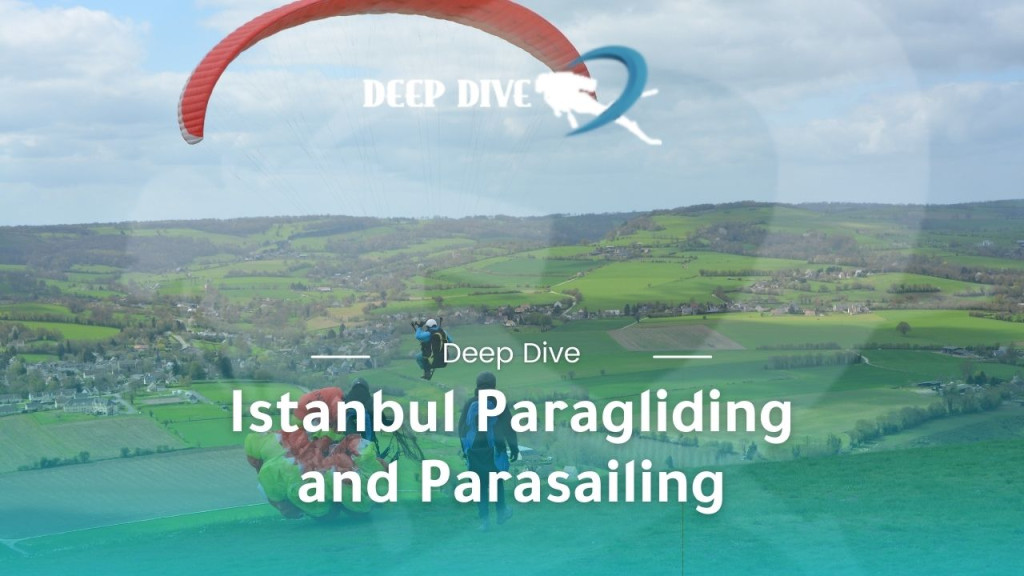 Istanbul Paragliding – What is Parachute?
It is a sail made of nylon woven with thick threads and woven in a regular way to represent a strong structure, and the parachute works to increase the surface of the body and thus increase the resistance leading to a decrease in the speed of the body.
This type has been used as a fun sport that can be done to spend a beautiful time with friends and family and is one of the coolest trips that will leave you a wonderful and unforgettable impact when you visit Istanbul or Turkey in general.
You will also be able to see everything from the highest peaks of mountains, seas, fabulous gardens, and valleys safely like a free bird, and there are many tourist places in Istanbul where you can ride parachutes and which we will talk about later.
Parachute in Istanbul
Parachute riding in Istanbul is an activity that increases adrenaline screening and increases excitement and when you enjoy jumping and paragliding, you will turn into a passion in a short time.
Some of the most important places where parachutes can ride in Istanbul are:
1. Chatalca Ormanli Prashot Region Turkey
Ormanli is one of the most beautiful areas of Istanbul to practice the hobby of parachute riding in Istanbul, where the Ormeneli area contains many beautiful places as it overlooks the shore of the Black Sea in addition to the landmarks of Istanbul, forests, and gardens.
It provides you with a great opportunity, especially for those who are trying to paraglide for the first time, and the sea coast of the Catalga Ormanli region is an important center where you have an excellent opportunity to ride the parachute if you want to fly over the perfect view on the 15-kilometer coast.
Information on Parachute Rides in Catalca Ormanli – Istanbul:
| | |
| --- | --- |
| Height | 40 meters from sea level |
| Flight Duration | 15 – 20 minutes |
| Catalca Ormanli – Distance from Istanbul | 75 km |
Catalca Ormanli region on the map
Screenshots of parachute riding in the Catalga Ormanli area
2. Tekirdağ Parachute Region of Turkey
Tekirdağ Parachute area is one of the most beautiful areas where you can spend vacation time with the possibility of riding a parachute in Istanbul without changing your destination to another city, and the Tekirdağ Parachute area contains wonderful places where you will see the Sea of Marmara in addition to the landmarks of Istanbul, forests and gardens through mountain parachute rides.
Information on Parachute Rides in Tekirdağ Parachute – Istanbul:
| | |
| --- | --- |
| Height | 250/600 meters from the surface |
| Flight Duration | 9 – 15 minutes |
| Tekirdağ Parashot – Distance from Istanbul | 180 km |
Tekirdağ Parachute area on the map
Shots of parachute riding in Tekirdag Parachute area
3. Adapzari Serdawan Parashot District Istanbul
Adapzarı Tırdııan Parachute Istanbul is one of the distinctive areas near Istanbul where you can ride the parachute in Istanbul, an area that attracts parachute riding enthusiasts because it is close to Istanbul and provides a beautiful view with its green views. What you need to see this unique beauty from the sky is a little courage and a parachuting pilot with an experienced trainer.
Information on Adapzari Rides Serdwan Parashot – Istanbul:
| | |
| --- | --- |
| Height | 220 meters from the roof |
| Flight Duration | 15 – 20 minutes |
| Adapzari Serdwan Parashot – Distance from Istanbul | 160 km |
Adapzari Cerdwan Parachute area on the map
Screenshots of Adabzari Serdawan Parachute ride Istanbul
4. Arnavotkoy Karaburon
Or what is known as Karaburun, which is located in the Arnavutköy district of Istanbul as well as on the Black Sea coast and is a distinctive center for parasailing in Istanbul and gives you a unique parachute jumping experience in Istanbul?
5. Bendik Aydos
Aydos Paragliding Area is one of the most beautiful flying areas you can do in Istanbul. On the one hand, you can see the historical peninsula, and on the other hand, you can see large and small islands such as Heybeliada, burgazada, and Büyükada from the air.
Features of skydiving in Turkey
We provide you with the best services in our center – Deep Dive to spend quality time with friends and ride parachutes, whether water parachutes or mountain parachutes, and skydiving, where we are distinguished in:
Initially, we determine the date and time of the flight after making sure the weather conditions are suitable.
We have a hotel shuttle or shuttle service from your location and this fun journey begins with climbing the mountain with our pickup vehicles.
Our flight time varies between 10-20 minutes depending on wind conditions. We will take off from the mountain and land on the seashore.
You will have the opportunity to see the green forests and the sea while enjoying this unique experience.
You can join this tour with your own car and paragliding tours in Istanbul are held every day depending on the weather conditions.
Paragliding flights are carried out along with experienced passenger pilots and pilots flying together.
We have flights every day during the summer months and in the winter months.
It is useful to ask in advance and get information about the days when trips can be taken. Paragliding tours are held in Istanbul
Paragliding in Istanbul price
The question is often asked about the cost of the trip and paragliding in Istanbul. We at Deep Dive Center provide you with the opportunity to enjoy and at an affordable price as you can fly every day by taking a short break from the routine in Istanbul.
Paragliding in Istanbul price ranges from $100 To $400, as this price includes photo footage, video and transportation Moreover when you buy your paragliding ticket you can use it whenever you want within one year or you can gift it to your friends.
FAQs
Is parachute riding safely in Istanbul?
Yes, of course, parachute riding in Istanbul is safe as you are in safe hands, the staff is trained and qualified to ride parachutes, and we have the best types of parachutes for skydiving.
How far is Tekirdağ from Istanbul?
Tekirdağ Governorate is 180 km away from Istanbul, and you can reach the area on your own
car or buses, and our center provides convenient and safe transfer service to and from Turkerdag Istanbul
How far is Chatalca Ormanli from Istanbul?
The Chatalca Ormanli parachute area, which is 75 kilometers from the center of Istanbul, will provide you with a perfect start with transportation facilities, hills, and take-off lanes performing the jump in the company's professional pilot.
Osmanli has an excellent location for Istanbul, where you can fly near and above the sea.
What are the best places to practice skydiving in Turkey?
1. Skydiving in Sakarya Tandem Yamaç Paraşütü
2. Skydiving in Tekirdağ Yamaç Paraşütü Tekirdağ
3. Skydiving from the highest peak in Turkey's Ordu.
4. Babadağ Turkish Highlands Babadağ dağ.
5. Skydiving from Jebel Ali in Kayseri Ali Dağı
What is the difference between freestyle jumping and parachute jumping?
Free jumping is jumping from a plane on your own without any facilities, and it needs a strong heart. Parachuting or parachute jumping is jumping from the top of a mountain with a special companion(trained and experienced pilot).
Resources