Swimming Lessons for Kids, Deep Dive Club is the best swimming club for children where we are characterized by using great methods and methods to learn to swim or a way to improve your child's style. We offer a range of swimming lessons for kids and adults of all ages.
Here in this article you will find everything there is to know about the award-winning swimming lessons for kids. From what is available and how it works to exactly what is included in each stage of the swimming lesson program for children.
Swimming classes for kids
Are you looking for the best swimming classes for kids?
We work in providing swimming training courses for children through swimming lessons as our children's swimming lessons suit all abilities both for beginners and up to people who want to improve swimming technology and develop their children's skills, we also provide:
We offer lessons in additional skills including diving, water safety and remote swimming.
We work on following and recording active swimming lessons Each swimmer will be able to watch their journey and chart how they progress through their swimming lessons.
The swimmer's progress is updated each week by his own trainer and determines the points he has earned.
Your child's progress is rewarded with new games, levels and challenges with his friends and colleagues.
At DeepDive Centre, we offer 11 collections across the stages of swimming lessons for kids aged four months and older.
The center has a private swimming pool for novice children to start their access to the water in a safe way.
All our trainers are qualified and competent to learn swimming lessons for kids level 1 within the highest standards of professionalism and safety.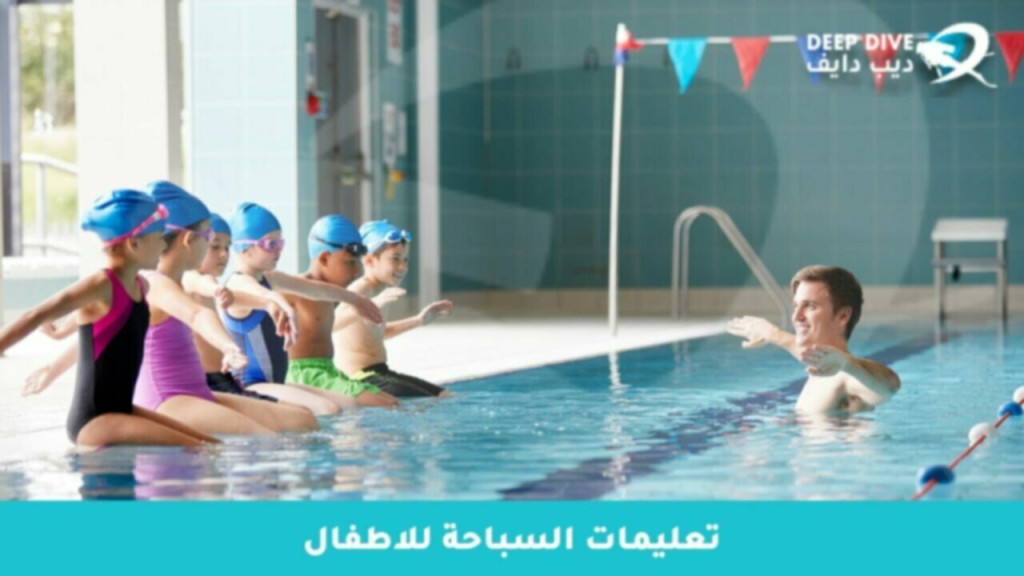 Don't miss the opportunity to get to know the best winter swimming centers
Swimming lessons importance for kids
Swimming has many physical benefits for children as you keep your baby active and fit to support all the major physical developments that swimming encourages.
The importance of learning swimming to kids lies in the following:
Swimming improves a child's activity by stimulating their blood circulation and helping them relax.
We use repetition a lot in our lessons to help infants and young children understand basic safety skills to develop their water confidence.
Our children's swimming instructions support their cognitive development so they can retain the information they learn in their lessons.
Practicing these skills inside and outside lessons supports the child's memory of the skills and their development. Maintaining a lesson routine also contributes to their learning and understanding of the skills taught in lessons.
Swimming stimulates the abilities of children with special needs and limits their hyperactivity as they empty excess energy. In addition to the development of their motor performance.
Swimming helps obese children get rid of excess weight.
Join our equipment diving swimming lessons
Methods of learning swimming to kids
Our swimming methods for children are integrated and adequate and these lessons aim to provide your child with the first water experience along with precise guidance.
Swimming instructions for children are provided through songs, games and support to prepare the child to enter the water.
We aim to enhance their confidence in water, along with providing a social environment for both parents and children.
We use special equipment to learn swimming to children in our center (board, tyres, children's toys)
We offer special lessons in order to learn swimming to children girls of different ages and those of the age of months with special trainers
When a child reaches 19 months of age, he is encouraged to start an independent water movement and sit at the end of the pool with his body stretched inside the water, until he leads to swimming alone and eventually performs the first stage of swimming courses until they reach classes for kids aged three years.
You can sign up for swimming courses (silver dolphin, golden dolphin)
Butterfly Swimming Training
Butterfly swimming is one of the most difficult swimming moves that are difficult to master.
It begins with arms stretched out in front of the body and then moves it back into the stomach. Then the swimmer rushes with his hands, which makes them move forward and upward in the water.
Butterfly swimming training is a technique used to improve the performance of competitive swimmers and non-competitive swimmers. Butterfly movement are swimming methods that use arms and legs to move the body through the water. It's a demanding technique because it requires a great deal of endurance and strength.
Who was the first to invent the butterfly swimming movement?
Australian swimmer David Thiel developed the butterfly blow in 1954. He was trying new ways to improve swimming in his back, but discovered that he could not get his legs out of the water without kicking them, so he turned on his stomach and tried again. He found that this allowed him to stretch his arm which gave him more strength in the water.
To learn more about this method read the following article Butterfly swimming, its benefits and why was it so named?
Names of swimming gear for children
One of the things to consider when starting to learn children to swim are special clothes and tools for swimming, which have a great benefit to ensure the safety of the child and his sense of safety inside the aquarium.
We offer our visitors in the center many important swimming tools for children, including:
First: The swimming jacket, where this tool is very suitable for children in the first periods of learning swimming at a certain age.
Second: Buoys, which are one of the important tools that must be used for the child at the beginning of his entry into the pool.
Third: The safety ring, which is one of the tools that are widespread a lot when wanting to learn children to swim.
Fourth: The swimming belt and these tools are used for coming in learning swimming in deep places. In addition to the swimming board, fin, glasses and air tube.
Children's swimming board
A swimboard is a tool that swimmers use to practice their blows. The board can be used in the pool or in open water.
Some panels are designed to have handles that allow the swimmer to stick to them without having to use their arms, while others are flat and have only a buoyancy assistant at one end.
The length of the board varies depending on the swimmer, his age, experience and how deep the water is. For example, a long board can be used for a back stroke while a shorter board can be used for chest swimming.
Learn more about the types of swimming education board through this article: Types of swimming education board
What are the swimming purposes for children
Swimming purposes are one of the purposes that the child must bring with him permanently and one of the most important of these purposes is
Swimwear (May) that suits the child's neck
A special towel for the child to use after he leaves the pool.
Swimming bonnet plus swimming glasses
And a special carrying case to put all the child's belongings.
Find out more about children's swimming lessons through Silver Dolphin Swimming Courses
Types of swimming for kiids
Babies as young as 6 months old probably won't learn to swim, per se, but they will gain initial skills and rest with water to prepare them for success later on as the baby learns to swim "just like many babies who learn to walk before they learn to crawl, and children in the pool learn to kick and paddle before learning to swim.
In our center, we learn children a lot of movements in addition to types of swimming, including:
It is possible that your child does not master these swimmers at first, but at first it is about accepting his entry into the water and then kicking and rowing.
Benefits of swimming for kids
Swimming lessons are a great way for children to learn to swim and enjoy the water. These include many benefits, including the following:
Reduce the risk of drowning by 76%.
Improve fitness levels.
Improve self-confidence.
Prevent ear infections in children.
How to learn to swim for kids beginner
Top Frequently Asked Questions About learning Swimming to Kids
How long is swimming education for children?
On average, a child needs 20 swimming lessons of one full hour to be able to learn buoyancy skills and other swimming techniques.
What are the features of teaching swimming to children?
Children's swimming skills gain them the ability to enter the water, return to the surface, control breathing, floating, spinning, moving to a safe place in the water and exiting.
What safety measures do we recommend at Deep Dive Centre?
In our center, we observe the most important safety standards for your children, where we do: Make sure that the water is clean,
warm and suitable for children and do not allow children to walk on the edge of the pool without facilities.
We have a dedicated medical team equipped with all the equipment for ambulance cases and provide our children with all the supplies for the safety of the child to the inside of the water.
When do swimming instruction classes for children start at our center?
We're working on starting swimming lessons for infants when the baby is about 6 months old and studies have discovered that babies around 8 months old start developing the concept of fear, so if they're already aware of being in the water by then, it would be better
Is it possible to teach swimming for children under two
years?
Swimming can be taught to the little ones and infants as the baby is born by nature knows how to swim and swim in his mother's womb. Our Deep Dive Center has specialized trainers and trainers in teaching swimming to infants and toddlers
The sources